Reward your readers by sending them SLP tokens for frequently reading your content.
Every day a user visits your site he will automatically receive some of your SLP tokens. This is a nice way to engage with your community and boost your token, as well as motivate your users to come back.
Example:
Download:
Just download this zip file and upload it in your WordPress site under Plugins -> Add New -> Upload Plugin.
Once installed, you will receive automatic updates through the WordPress updater. You must have the CashTippr core plugin already installed.
Easy Setup:
comes with it's own WordPress admin wallet based on SLP SDK – no hassle integrating it with your own wallet.
automatic BadgerWallet detection: send tokens automatically to your reader upon browser extension detection with 0 interaction required by the user
session cookie-based token storage: Your readers can claim their SLP tokens later when returning to your site. No need to install a SLP token-aware wallet (such as Electron Cash SLP Edition) on first visit and no need to enter the address again on every following visit.
Advanced Features:
VIP readers: give frequent readers (after n continuous days of reading your site) more tokens per visit to make them engage more often with your blog
safe funds: your wallet mnemonic (to derive private key) is only stored AES-encrypted in WordPress. You are in charge of your funds in a non-custodial wallet.
enable token rewards on your whole website or just on specific pages/posts
Canvas Fingerprinting to prevent users from pretending to be a new visitor multiple times daily*
manual review: you can review each reader to detect bots before initiating a payout (coming soon)
visitors can send each other BCH & SLP Token tips for comments on posts and product reviews (coming soon)
The plugin addon configuration in WordPress admin panel: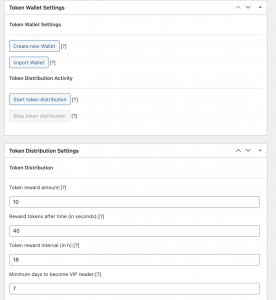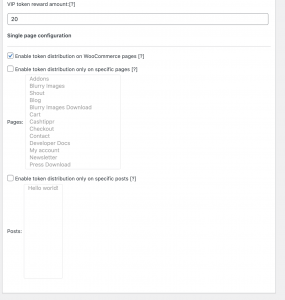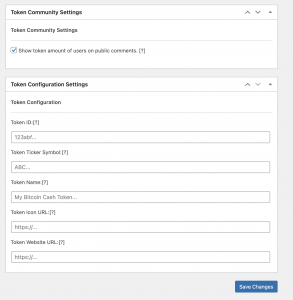 This plugin uses SLP SDK to send tokens. Thanks a lot much to the authors!
* The purpose of this feature is to prevent users claiming to be a new visitor by changing their IP address and opening a new browser incognito window. It does not prevent advanced types of cheating (such as an attacker modifying the JavaScript code in the browser)! Do not rely on this feature when sending out larger USD amounts of tokens!